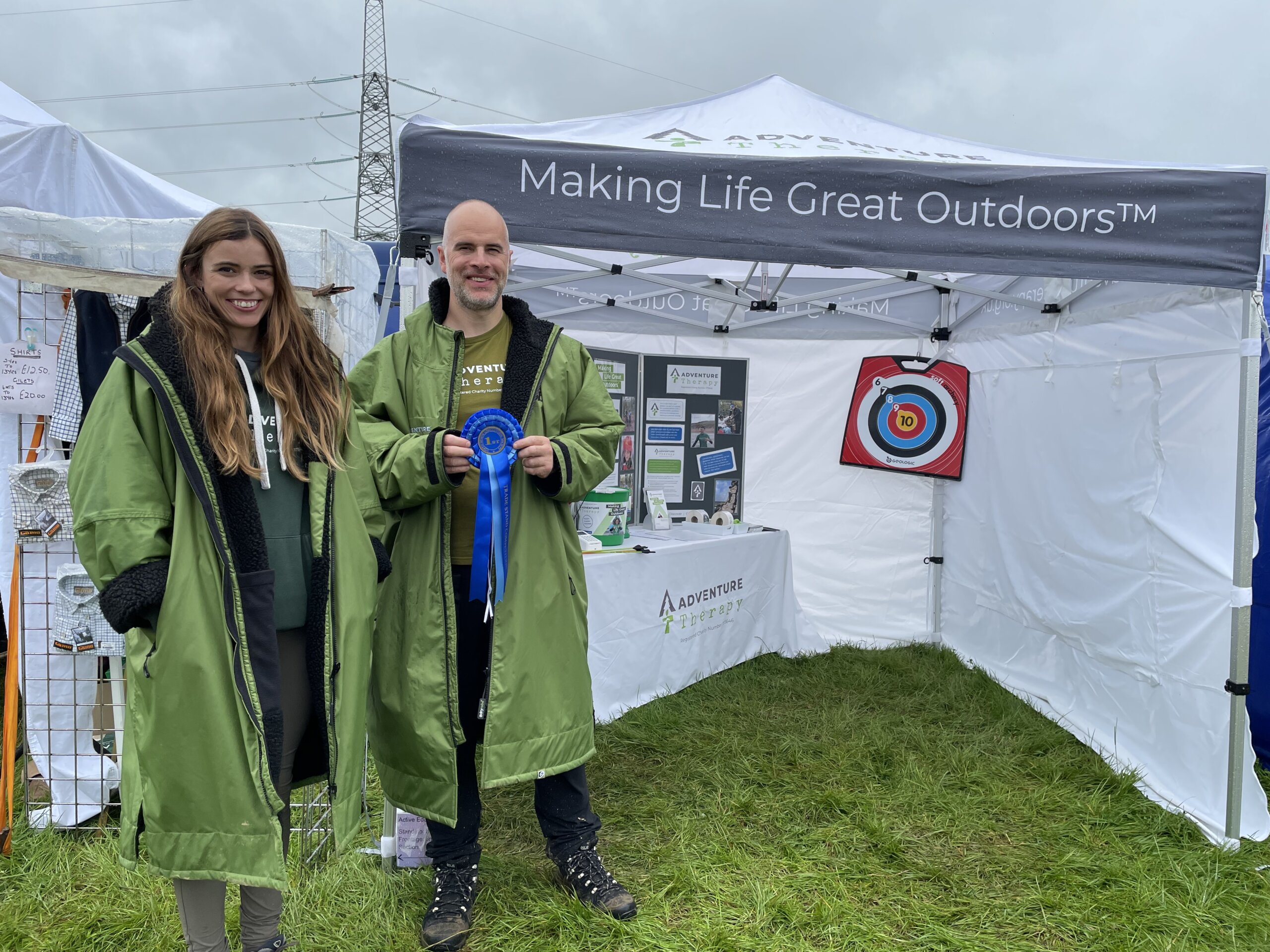 North Devon Show
On 2 August we were pleased to be at the North Devon Show at Umberleigh. Raising awareness of our charity in the communities we serve means more people know how to access our services and make a referral - and how they can support us, by donating to our cause or taking part in an event.
We were also stoked to be awarded a 1st place as best trade stand at the show!
Pictured is Amy, our Project Coordinator and Rob, our Founder and Chief Executive.
Over the edge for challenging and complex lives
Following our sponsored Abseil on Dartmoor Amy, our Project Coordinator and Penny, our Occupational Therapist and dedicated volunteer, were thrilled to announce that a fabulous £1,862.41 has been raised! Thank you to everyone who took part and went over the edge for Adventure Therapy and for each and every person who so generously donated to our vital cause.
If you're interested in taking part in an event to support Adventure Therapy please get in touch - amy.weekes@adventuretherapy.org.uk. Thank you for your support.
Charity Shop
We have opened our charity shop in Ilfracombe, North Devon. Our retail premises sells a range of good quality preloved clothing, books, bric-a-brac and children's toys and games. We're looking for heroes in our local community to help by volunteering and giving the gift of their time and for donations to continue to keep the shop well-stocked. Discover more at shop@adventuretherapy.org.uk.
May 2023
Amy, Our Project Coordinator, welcomed the opportunity to meet with Marj, one of our dedicated volunteers, who raised a fantastic £435 through her Penguin Challenge of 10 cold water swims on inland waterways and at sea. Well done Marj - we hope you can enjoy some warmer swims, soon!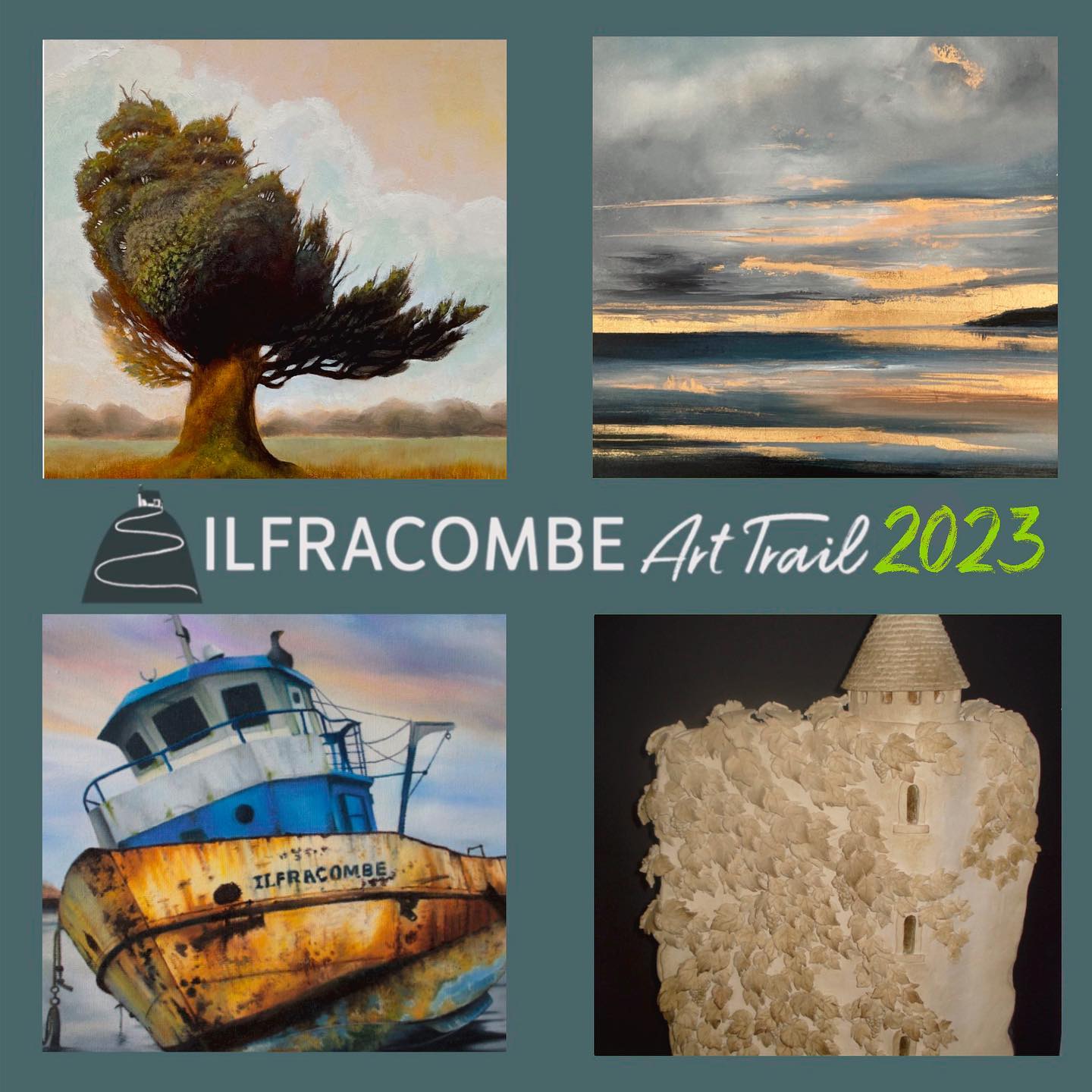 May 2023
We are delighted and very grateful to be supported by the Ilfracombe Art Trail again this year. Thank you to the organisers of this fantastic event and the artists exhibiting who will be helping to change lives through adventure in the local community. Visit the Art Trail in Ilfracombe on May 13 and 14th and be inspired by everything from paintings, drawings, sculpture and hand-crafted pens.
July 2022
Following several meetings with the original team behind Challenge Ahead, an unregistered charity in South Devon, we are pleased to be able to continue their work as they become part of Adventure Therapy.
Challenge Ahead has been running for 10 years, providing social and activity groups for young people (8+ years) with Acquired Brain Injury (ABI). The groups promote physical, cognitive and social skills that may have been affected through injury or as a result of prolonged time away from school and community life.
The opportunities that Challenge Ahead has provided align with Adventure Therapy so it is a natural fit from the outset. Opportunities to meet others in similar situations, learning ways of coping with a variety of challenges, trying new activities, making new friends and learning new skills in an adventurous but supported environment. These are key to the ethos of Challenge Ahead and Adventure Therapy. Penny Weekes from Challenge Ahead writes -
"We are so excited to be joining Adventure Therapy this summer and becoming part of this vibrant charity. We look forward to running our groups and developing our ideas and opportunities with Adventure Therapy, whilst also giving us the opportunity of extending our welcome to those living across Devon. As part of our commitment to those with Acquired Brain Injury we also run a monthly parent group, providing information and guidance to help parents and grandparents to understand and manage the difficulties their young person may be experiencing post injury"
To discover more email enquiries@adventuretherapy.org.uk.
July 2022
Our Founder, Rob Emery, was pleased to join with
Ilfracombe Rotary CLUB
at their meeting and to thank them for their support, as their chosen charity during this past President's year. We are so grateful for this additional donation of £500, which will help to change lives through adventure for young people and adults who lead challenging and complex lives.
June 2022
We have a rare opportunity for an Activities and Fundraising Coordinator (part time), who can organise and develop our activities and grow support for our charity. If you're passionate about our cause, resilient, an exceptional communicator and full of ideas, we look forward to hearing from you.
Explore more at Jobs and Volunteering
.
May 2022
We've been raising awareness of Adventure Therapy at the Wavelength Spring Classic Festival in Woolacombe, North Devon. An opportunity to to be amongst like-minded individuals who are passionate about surfing and the power of the ocean, in addition to families who were there to soak up the sun, listen to great music and enjoy good food. We were stoked to gain new referrals to our charity and support for our cause.
February 2022
We are thrilled to have received £10,000 of funding from the National Lottery Community Fund. This will help us to meet an increasing demand for our service by providing outdoor activities, developing a parent support group and raising awareness of our work in the communities we serve. We are very grateful to the players of the National Lottery for the money that's raised to support good causes such as Adventure Therapy.
October 2021
We are delighted to be awarded a 2-year grant of £40,000 from the Garfield Weston Foundation. This generous support and commitment from Garfield Weston will enable Adventure Therapy to deliver activities and meet demand for our service over this time. We are extremely grateful for the generosity of the Trustees from Garfield Weston, which will make a positive change in challenging and complex lives.
June 2020
We are pleased to announce that we will be recommencing a limited number of activities over the next couple of weeks, taking guidance from the government and Sport England at all times.
Positive mental health and wellbeing is critical at this time and particularly for children and adults with challenging and complex lives. We have consulted with previous participants and parents and our support is needed more than ever.
Initially activities will be on a 1:1 basis only and the first to restart will be surfing and coasteering. Due to the need to observe social distancing at all times, these will be available for children and adults who would not require physical assistance and additionally, are not on the NHS shielded patients list.
If we could help you or someone you know please e-mail active@adventuretherapy.org.uk.
March 2020
We are all subject to unprecedented and extremely difficult circumstances both now, and in the weeks ahead.
Please be assured that Adventure Therapy continues to monitor the situation with regards to the Coronavirus pandemic.
We appreciate that for many of our participants (our service users), stopping activities could have a detrimental impact on their wellbeing. However, whilst many of our activities take place on a 1:1 basis and predominantly outdoors, it is vital that we consider the health and safety of our participants, approved instructors, volunteers and supporters at all times. We have therefore made the decision to cease all activities until further notice.
Please be assured that we will resume activities as soon as it is safe and practical to do so. We always liaise with participants and our Approved Activity Providers before any activity takes place and this will be with additional diligence once activities commence. In every circumstance we follow the advice of Public Health England (PHE) and the Government.
Supporters
We would like to thank all of our supporters for their continued kindness and support of our charity and particularly throughout these uncertain times.
If you have any questions, please call us on 01271 865285 or e-mail enquiries@adventuretherapy.org.uk.
February 2020
We are pleased to announce that Adventurer and Explorer Richard Matthews has agreed to become an Ambassador for Adventure Therapy in support of our work.
Richard has walked the 600km Slovenia Mountain Trail, solo, driven to Mongolia and back as part of the Mongol Rally, completed the Arctic Survival Challenge in Sweden and circumnavigated the world in a Nissan Micra!
He is a Fellow of the Royal Geographical Society and a qualified Mountain Leader and has led groups on the Duke of Edinburgh Award, Ten Tors and on international expeditions around the world.
July 2019
We are extremely grateful to receive a grant of £6,240 from the Clare Milne Trust. This will enable us to improve lives through adventure and time spent outdoors for children and adults with disabilities, life-limiting or life-changing conditions in Cornwall.
March 2019
We are pleased to report that law firm Ashfords LLP Solicitors newly established charitable foundation, The Ashfords Foundation, has generously donated its first grant in Devon to Adventure Therapy.
We are very grateful to the Trustees of the Ashfords Foundation for their kindness and support and for recognising the work that we do to improve the emotional wellbeing of children and adults with unique health conditions or limitations, who live locally to their offices, through outdoor and adventure-led activities.
December 2018
We are pleased to announce that we have been awarded £7,046 of funding from Sport England, in support of our work.
Sport England distributes funds from The National Lottery: its vision is that everyone in England feels able to take part in sport or activity, regardless of age, background or ability. This dovetails with our own vision and mission to provide access to outdoor activities and adventure-led pursuits to children and adults with disabilities, life-limiting or life-changing conditions.
We are grateful to National Lottery players for helping to make life better by taking part in National Lottery games and to Sport England for believing in our mission and helping to fund out work.
September 2018
We are pleased to announce that Daniel Northcott has joined Adventure Therapy, as one of its Trustees.
As a Law Graduate and outdoor instructor, Dan brings a range of skills and experience to Adventure Therapy, in addition to voluntarily giving up his time to support our charity.
Our founder, Rob Emery, comments "There is a distinct lack of young people acting as Trustees to a charity, with the charity commission reporting that just half a percent have board members who are between 18 and 24 years of age. Often this is because younger people aren't aware of the possibility to volunteer in this way and the positive impact they can make to an organisation in doing so."
"We were keen to engage with a young Trustee and are excited to have Dan join us. Dan's aptitude for law is advantageous to Adventure Therapy and particularly as he has recently completed his prestigious degree, bringing professional knowledge and an enthusiasm to further increase his skills. That he is also an outdoor activity instructor benefits us to an even greater extent, as his passion and experience in guiding people in adventure-led pursuits can help us to evolve as an organisation and assist in ensuring that we offer the most appropriate range of activities for our service users".
July 2018 - BLOG
Charlotte Underwood shares a personal  journey with Adventure Therapy of getting outside, in nature:
"With the modern world becoming urban at an extremely uncomfortable rate, it's easy to forget that sometimes our best forms of therapy have been right in front of us all along, just like they have been for each and every one of our ancestors.
I'm talking about nature, the great outdoors and actually taking the time to go on a little adventure, be it to a different park than usual, the next town over or hundreds of miles away."
July 2018
We are pleased to announce that respected adventurer and television presenter Tim Treloar has accepted the position of Patron of the charity.
Tim has had experience delivering outdoor training, education and consultancy to a range of clients across the globe. He is a qualified mountain leader, cave leader and a climbing, canoeing and kayaking instructor and has used his skills on a number of high profile expeditions. He is also a trained teacher with a Masters degree and has experience training the police and military in wilderness tracking.
Rob Emery, founder of Adventure Therapy, comments "we are very grateful to Tim for offering his personal and professional support to our charity and becoming its first Patron. As a charity that focuses on adventure-led pursuits and outdoor activities, Tim's knowledge and level of experience, in addition to his firm resolve in what we are endeavouring to achieve as a charity, is a fantastic association for us to have. We look forward to working with Tim and making a positive difference to the emotional well-being of children and adults with disabilities, unique health conditions or limitations, through outdoor and adventure therapy".
Tim adds "Adventure Therapy sits very close to both my work and values and I am keen to support the charity through my company, TT Adventures, and personally".
July 2017
Adventure Therapy is founded and registered as a charity in England and Wales.
We exist to improve the emotional (and sometimes physical) wellbeing of children and adults with unique health conditions, impairments or limitations through free outdoor and adventure-led activities.
Our target over the medium to long-term is to raise £450,000 per year which will enable us to provide a programme of activities for 450 - 500 children and adults with physical disabilities, mental health conditions, life-limiting or life-changing illnesses.
With no statutory funding, our mission can only be achieved through the help and support of the local community and businesses. Thank you for your support.