You can change lives through adventure
Your donation, of whatever size, makes a vital difference.
You provide the thrill of catching a wave for the first time and the sense of accomplishment. Because of you wild rivers - and emotions - are explored. Caves are discovered, turning darkness to light and rocks and granite tors, conquered. You help people to form friendships and create special memories. You take people to wild places. You put smiles on faces.
Adventure Therapy receives no statutory funding and we rely entirely on the kindness and generosity of our supporters to provide activities and to enable our work to continue. Thank you for your kindness and support; and for Making Life Great Outdoors™.
If you would prefer to send a donation through the post, please make your cheque payable to Adventure Therapy, enclosing it with a covering letter providing your name, address and any other contact details you wish to share (so that we can thank you personally) and send it to - Adventure Therapy, 5 Seaview Estate, Ilfracombe, Devon EX34 9PP.
If you are a UK Taxpayer the value of your gift can be increased by a further 25% under the Gift Aid scheme, at no cost to you.
Thank you for any support that you feel able to provide; we are extremely grateful that you are helping our work to continue.
Donate by text
To donate £5 text ADVENTURE to 70085
This costs you £5 plus a standard rate text message. Alternatively, you can choose to give any whole amount up to £20. Just text ADVENTURE followed by the amount you would like to donate. For example, to donate £10 you would text ADVENTURE10 to 70085 - thank you for your support.
Other ways to support our work
LEAVE A GIFT IN YOUR WILL
Leaving a gift in your Will can help to support our future and ensure we are there to provide our services for generations to come.
GIFTS IN MEMORY
We are truly honoured to be considered as the beneficiary of special donations in memory of a beloved member of your family or friend. We appreciate how poignant it is to offer your support at such a difficult time and we will always use your donation wisely and with the utmost respect.
TAKE PART IN AN EVENT
Taking part in an event or setting up your own might seem challenging at first or even impossible to achieve, as you start your journey; however, it is often the hurdles we face that enable us to push harder and succeed. For some, overcoming their fear may be what drives them forward - a skydive or an abseil - for others, something more sedate but equally as challenging, on a personal level; a sponsored walk, head shave or putting in the miles on a treadmill.
Whatever your personal challenge, thank you for supporting Adventure Therapy along the way.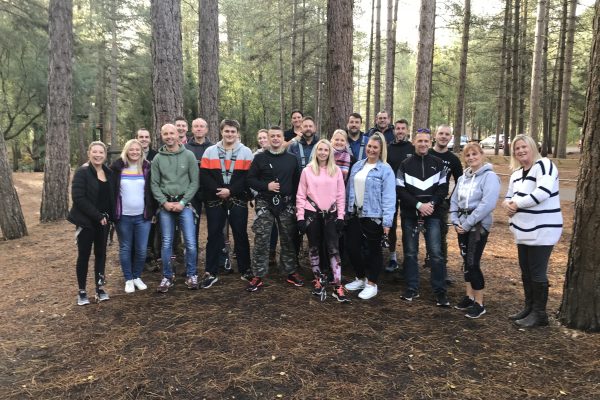 TRUSTS AND GRANTS
Discover how your foundation could support Adventure Therapy and help children and adults with disabilities, life-limiting illnesses or life-changing conditions to experience outdoor activities and adventure-led pursuits, enabling new and emotive experiences.
An opportunity to challenge themselves, overcome boundaries and spend time creating new and treasured memories with their family.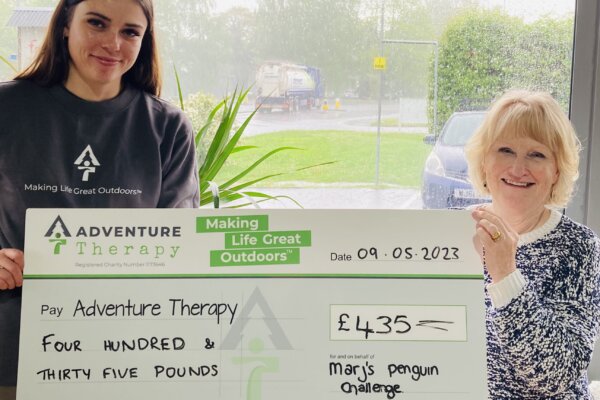 INSPIRE YOUR COMMUNITY
As part of the local community, you're at the heart of what we do. The generosity and firm resolve of the people that donate, volunteer time and encourage us is humbling - we are ever grateful to the people that support our work and inspire others to do the same.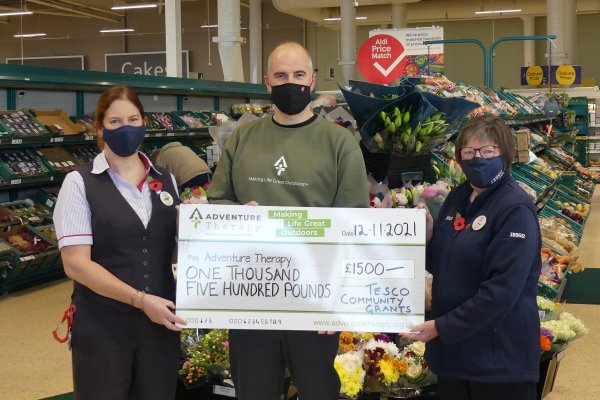 INSPIRE YOUR COMPANY
Sole trader, local business, national or international - there are many ways your company can get involved and support the children and adults who benefit from Adventure Therapy.
Supporting Adventure Therapy through your organisation can bring brand loyalty from your customers, motivate your staff and help toward social responsibility.
Your Privacy
We take your privacy seriously. We store your details securely on our database and will only use your personal information to provide the services you have requested from us. We will never share your details with third parties for marketing purposes without your prior consent. For further information, please see our Privacy Policy or phone 01271 865285.