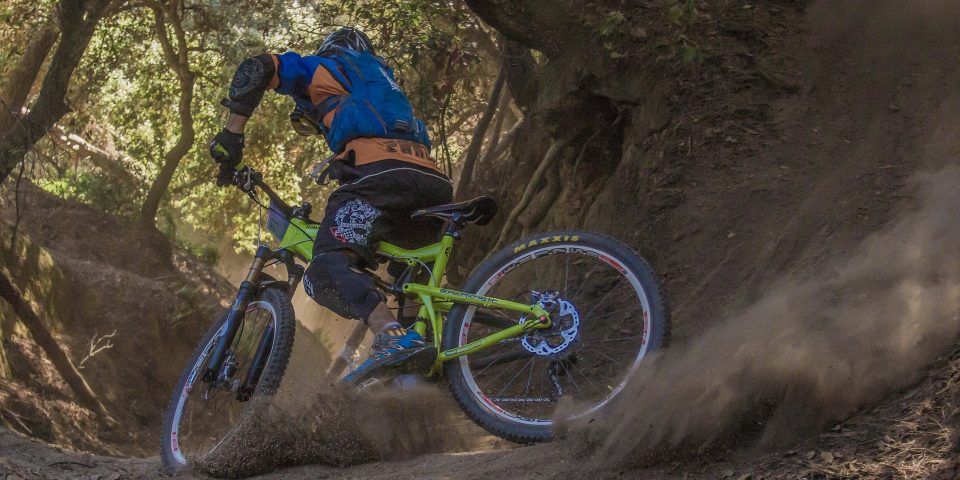 The variable terrain of Devon, Cornwall and Somerset provide excellent opportunities for hiking, mountain biking and horse-riding whilst archery and our bushcraft sessions provide something unique, a little more sedate and less requirement for mobility, overall.
Mountain Biking and Cycling
Aside from the obvious physical health benefits of cycling, there is also the emotive benefit of peddling a bike along a forest trail or across open moorland. The sense of independence and discovering new places by bike provides a level of accomplishment that should not be under-estimated. Studies have shown that there is a clear connection between cycling and cognitive behaviours and the mental health benefits for both children and adults.
Cycling also provides a great way for families to spend time together in the outdoors and if it proves difficult or is not possible to ride a traditional mountain bike, there are several options available, including trikes and four-wheeled bikes to help with stability (i.e. recumbent cycles), which may alleviate any concerns that you have over mobility and your ability to take part.
Hiking
An opportunity for relaxation and quiet, surrounded by nature, engaging the senses and an chance to experience the outdoors even in less favourable weather conditions, provided it is safe to do so.
Feeling very much alive - a hike can leave us feeling refreshingly fatigued, and yet somehow better equipped to handle "civilisation". And the sense of accomplishment is gratifying enough to improve our perception on all things in life.
Some research suggests that the physical benefits of hiking extend far beyond cardiovascular health. In a study published in the International Journal of Sports Medicine, researchers measured oxidative stress. The study found that long distance hiking trips may improve the antioxidative capacity, which helps fight off disease, in the blood of oncological patients.
A study by the University of Stirling on a sample of 341 patients showed a brisk walk was "an effective intervention for depression" and had a similar effect to other, more vigorous forms of exercise.
The benefits of physical exercise in general on treating mental health are well documented. According to one study, physical activity can even be as effective as medication in treating depression.
If accessibility proves difficult, there are specialist mobility aids available (such as tramper wheelchairs) which can be used off-road on a variety of trails with a guide, family, friends or carers.
Horse Riding
From a physical aspect, horse riding is a great way to help posture, balance and coordination. Taught by an experienced instructor, equine-assisted therapy and the requirement to control the horse also helps the rider to focus and have emotional control - there is no room to be angry and frustrations can soon be dispersed through patience, forgiveness - and trust. As a form of therapy then, it is particularly good for people who may struggle to express themselves due to their condition and there is the sense of accomplishment which can help the rider to feel more confident in their abilities.
Sessions can also include grooming and tacking up, in addition to the ride - this kind of animal-based therapy is calming and particularly helpful to children and adults who may be experiencing anxiety or other forms of emotional distress.
Archery
It is an excellent form of therapy for children and adults with a physical disability, using specialist tactile equipment if required.
It can be practiced by a wide age range and individually on a 1:1 basis or as part of a group, where there can be the added excitement of competing against each other; in turn this can boost-confidence and the sense of achievement - or the ability to understand and accept loss. Archery improves coordination, breathing techniques and focus through measurable results and this also has the advantage of being beneficial in day-to-day life.
Our approved instructor can use bows with adjustable draw weights and the use of a release aid, if required.
Archery can help to strengthen muscles and tendons, through the tension of drawing the bow, holding the position and releasing the string to fire an arrow. Done repetitively, this can lead to the development of many of the major muscle groups in the upper body - the core, arms, chest and shoulders all benefitting, in a similar way to lifting weights.
Nordic Walking
Nordic walking was originally a summer training regime for cross-country skiers. It's based on using specially designed walking poles in a way that harnesses the power of the upper body to propel you forward as you walk. It's now a recognised way to turn a walk into whole-body exercise. Nordic walking is no harder on the joints than walking and it is suitable for all ages.
When properly used, the poles take the weight off the knees and lower body joints – this makes you feel lighter on your feet.
A research project run by Liz Carver, a former research scientist at BAE Systems concluded that Nordic walking will burn more calories and raise your heart rate higher than normal walking.
It is an activity suitable for people with joint conditions and as therapy, can be particularly good for people who have suffered from a Stroke, as part of a rehabilitation process, as the poles can help with stability, security and harnessing the power required to move forward, in preference to walking or hiking, unaided. It can also improve posture and gait, strengthen back and abdominal muscles and release tension in neck and shoulders.
We work with instructors who are members of the British Nordic Walking Association to provide sessions and whilst these can be on a 1:1 basis, many people prefer the social interaction and fun that can be experienced by taking part in a group activity.
Bushcraft
Aside from the technical aspects, Bushcraft provides a means of understanding the very essence of a landscape, whilst getting closer to nature. It is a place of refuge, away from the pressures, fraught and demanding stresses of everyday life - whether this stems from anxiety, social exclusion, physical disability, a life-limiting illness or life-changing condition.
Wilderness therapy can include animal tracking, making a safe shelter and camp fire, from the tools provided by the woodland or forest; foraging and being immersed in nature. These are deceptively simple activities but they can help to clear the mind and make us calmer.
As part of our animal welfare policy, our bushcraft sessions do not include hunting in any form (including fishing) and we respect the environment in which we operate, advocating a leave no trace policy, following time spent in nature and adventure.
Ridge Scrambling
Whilst we can provide this as a 1:1 session, it works particularly well in a small group setting. Ridge Scrambling provides a fantastic opportunity to learn more about the surrounding landscape, including navigation, how to read a map and use a compass and to support each other. It can teach or develop leadership skills and in addition to being fun, is educational and teaches respect for the environment.
An exciting way to traverse Greator Rocks on Dartmoor and take in the breathtaking views across to Haytor and Hound Tor whilst building resilience, forming friendships and creating special memories, with a strong focus on the task ahead.
WATER
Experience the thrill of catching your first wave as the surf rolls in across a sandy shore. The excitement of exploring by kayak or traversing the coast by swimming, climbing and jumping from the rocks.  Sea, river or lake, water provides a fantastic opportunity to discover the adventurer within.
ROCK | AIR
Dramatic cliffs rising from the sea, the expanse of Dartmoor and its granite tors or the security of an indoor climbing wall, protected from the elements. Be gripped by the adrenaline rush of your first abseil, the thrill of a zip-wire, scaling a rockface or the satisfaction of completing your first hurdle, indoors.